Dr. Kridel and coauthors congratulated for a landmark study
From this month's 10th anniversary issue of the AMA Archives of Facial Plastic Surgery, editor Wayne Larrabee Jr, MD: "Long-term Use and Follow-up of Irradiated Cartilage Grafts in the Nose epitomizes the meticulous clinical observation that we all should strive to achieve in our practices... Russell W. H. Kridel, MD and colleagues performed a meticulous study of 357 patients with a 24-year follow up. This study by Kridel, Ashoori, Liu, and Hart is important not only for the standard it sets in careful clinical evaluation, but also for the importance of the subject. Their results will cause many to reevaluate the role of irradiated cartilage in their practices." Rib cartilage from human donors is well tolerated as a grafting material in nasal plastic surgery and yields positive functional, structural and cosmetic results, even in complex cases.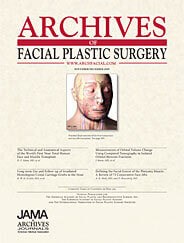 "The search for the ideal nasal implant remains an ongoing effort," the authors write as background information in the article. "We desire a substance that is readily available in large quantities; resists infection and absorption; is completely integrated into host tissues; causes little patient morbidity [illness or injury]; and can be molded, shaped or carved with ease." The patient's own cartilage is often the preferred choice, but is sometimes too thin, there is an insufficient quantity or it may cause problems at the site from which it is removed. Irradiated homologous costal cartilage—donor tissue from human ribs that has been treated with radiation to decrease the chances of an immune response or resorption once placed in a donor—could serve as an alternative. Russell W. H. Kridel, M.D., of the University of Texas Medical School at Houston and Facial Plastic Surgery Associates, Houston, and colleagues reviewed the surgery he performed on 357 patients who underwent primary or revision rhinoplasty (nasal plastic surgery) using autologous costal cartilage as the principal graft material between 1984 and 2008. The patients were an average of 37 years old and were followed up for an average of 13.5 years (and for a range of four days to 24 years). (Arch Facial Plast Surg. 2009;11[6]:378-394. Available pre-embargo to the media at www.jamamedia.org.) # # # For more information, contact JAMA/Archives Media Relations at 312/464-JAMA (5262) or e-mail [email protected].